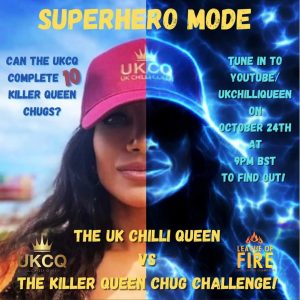 The Killer Queen Chug Challenge Fundraiser to help the European Contestants with Travel Expenses for the inaugural League Of Fire Chilli-Eating Champions European Title Belt Match on October 31st at The Hell Contest.
I'm going to put myself through some considerable pain to do a very tough challenge – the LOF Presents The Killer Queen Chug Challenge, to help raise money for the travel and expenses of contestants to Spain.
This will be my first time and I will push myself through the pain to do multiples. These chilli-heads' passion for the European Title Belt is inspiring and I hope the chilli communities can come together in support and kindness. The coverage in the news and such really helps to raise the chilli community profile worldwide.
Anyone who donates (£5 per ticket) will get an entry into the prize draw. The more you donate, the more entries you have. I'm sorting out a prize hamper from the hundreds of hot sauces I've bought this summer from festivals and will cover the postage to anywhere in the world and that will be my monetary contribution on top. I am so happy to see the excitement and passion these chilli-heads have for this Belt Match and I'm very happy to help in some way.
I cannot say no to a challenge when it means bringing several huge chilli communities in Europe together and talking and getting excited. ❤️❤️❤️
I am just a little worried about expenses for these contestants as it is so last minute and they are doing some insane travelling to get to the destination so strong is their desire to compete for the LOF European Title Belt! 🌶❤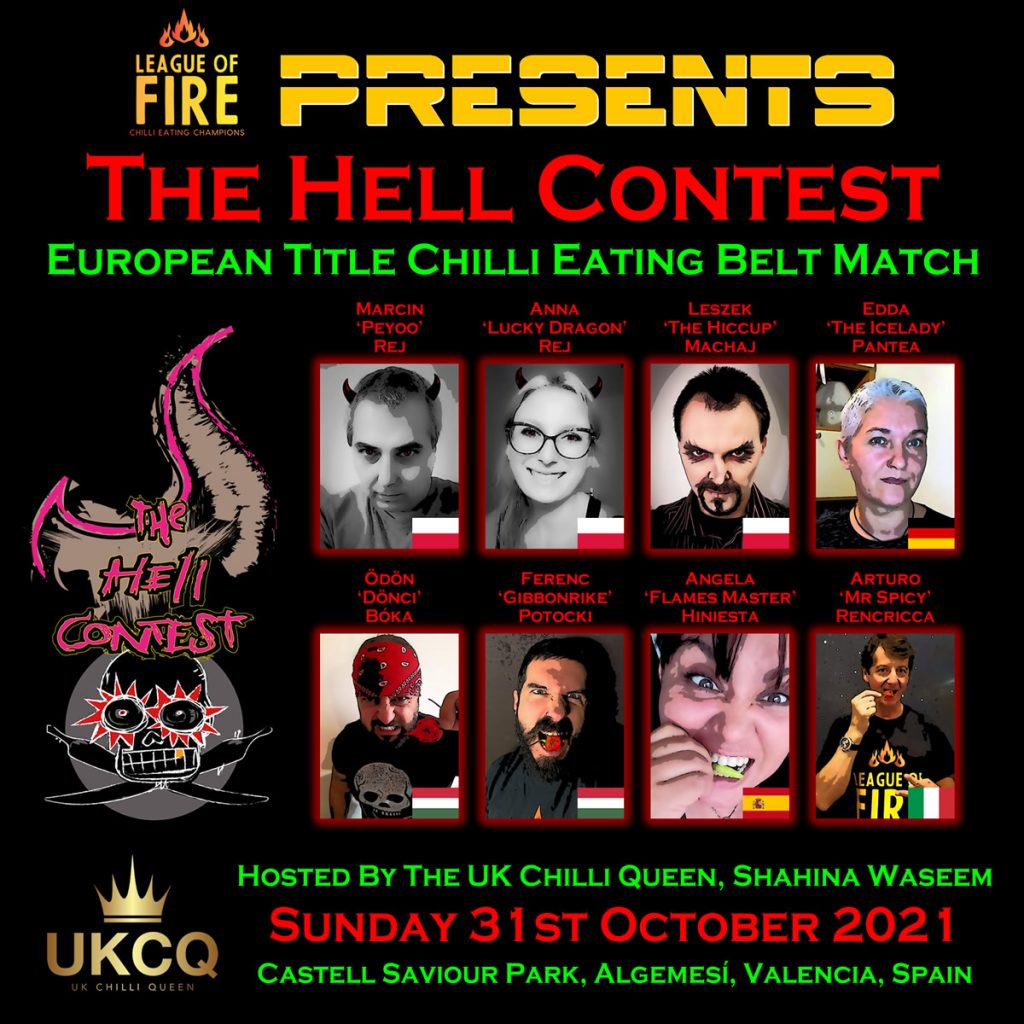 Thus I have come up with a plan to see if I can raise some money for them by doing this crazy challenge online. I am going to try and conquer 10 Killer Queen Chug Challenges live on YouTube and hope that people may donate just what they can happily do to help me towards my goal of bringing all the chilli communities together and excited. ❤️
I am not really a challenge person as I suffer a lot before, during, and after, and so I find them very painful and mentally difficult! It will definitely be a really tough challenge for me. I can promise you though that I will give it my absolute best shot.
By donating, people are not only helping the contestants; they are helping the chilli communities grow and prosper and forge friendships. These matches believe it or not bring so many people together from far and wide and help bolster chilli communities around the world. They really capture the interest and fascination of so many people who love to watch people go head-to-head in comps which promote not just the chilli-eaters but organisers, producers, growers, towns, cities, etc., as well.
Please don't feel forced to donate. I ask people to donate only if they are in a position to do so and if they have an interest in what these comps are about. It won't make anyone rich nor will the money go into anyone's wallet to go out and buy a Rolex. They will still pay for more than the majority of the cost of travel out of their own pocket. But every little bit helps. Please know that I don't expect or demand anything of anyone. You do not need to donate to watch. You are showing your support by watching me. The main thing is, I really need you guys to cheer me on! This will be the most brutal challenge for me yet! ❤🌶
The PayPal fundraiser account will be open before and during the live stream and my friends will announce and thank the donators as and when they come in and also those who have donated before the show and their names will be entered into the Prize Draw. My friends will be here reading out all the comments as I won't be able to see very well being blinded by tears and my full focus will be on the challenge. The winner will be drawn at random at the end of the challenge live on my channel.
Please, if you would like to donate, please do so using the PayPal link and not Superchat on YouTube as YouTube takes 30%.
Please note that I will not be taking a single penny for myself from the donations and I will pay for the prize hamper and postage at my own expense.
Please donate to paypal.com/pools/c/8E0aWsBuUw before or during the challenge. I thank you. ❤️❤️❤️🌶🌶🌶❤️❤️❤️